Congratulations to "Dr. Kaiser Jamil" the Vice President of Asian Council of Science Editors; for being honored with "Fellow" of 'The World Academy of Medical Sciences (WAMS)' and an outstanding Title "Academy Professorship" by WAMS.
Dr. Kaiser Jamil was recently spotted as a keynote speaker at "Global Summit on Cancer Research" with The World Academy of Medical Sciences (WAMS), organized by Orion Conferences that was held from Jul 19 – 20, 2018 at Hotel Novotel Barcelona City, Spain. Where 'The World Academy of Medical Sciences' selected her name as "Academy Professor of Cancer Genetics" and Certified her for "Academy Professorship".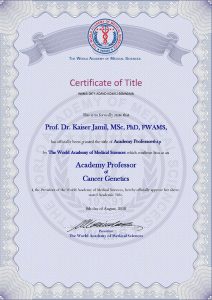 The conference was featured with a highly interactive, stimulating and multidisciplinary program including workshops, plenary sessions as well as oral abstract and poster sessions. This meeting addressed the entire related industries and look beyond the scientific topics alone. The Conference fulfilled its aim by providing the ideal forum to stimulate ideas and establish collaborations as well as to initiate intense discussions. The conference gathered academics, researchers, practitioners and research students from around the world to discuss the interdependence between theory and practice, with papers which focus on the analysis, description in order to better understand the ways in which theory, research, and pedagogy interact and inform each other.
Brief profile of Prof. Dr. Kaiser Jamil: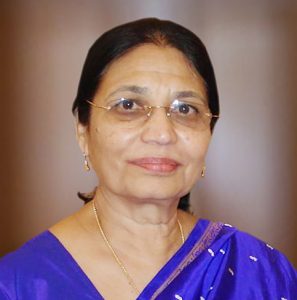 Dr. Kaiser Jamil, PhD. Is Emeritus Scientist, Principle Investigator and the Head of Genetics Department at BMMRC, also Dean, School of Life Sciences, at Jawaharlal Nehru Institute of Advanced Studies (JNIAS), having published more than 290 papers in journals of repute and guided 32 research scholars for PhD degree. During the last decade following her instincts, she has taken up several projects related to human health, for 'War against Cancer'. She has contributed in the field of Biomarkers in Breast cancer, Lung cancer, Leukaemia, and Head and Neck cancer.
Her work on SNPs of drug metabolizing genes in cancers has been published in peer reviewed journals, unfolding the mechanisms of several genes and other genes which network with these genes, elucidated Drug-Gene interactions. She has also contributed on the role of some signaling pathways such as tyrosine kinase inhibitors (TKI) and MAPK in haematological malignancies and HNC. Her research continues to unravel genotypes leading towards personalized medicine. Presently she is investigating the role of microRNAs is cancer diagnosis and gene-silencing technologies.