We are excited to introduce and welcome our new Ambassador for India, "Dr. Ravindra P. Veerana", and are looking forward to strengthen networking with Dr. Ravindra's expanded academic circle which will fasten the council's connectivity with Indian Researchers as well as high profile Scientists.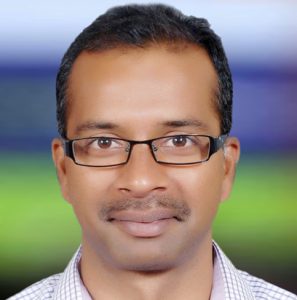 For the very first time in 2018, Dr. Ravindra joined us during our parallel series of 5th Annual Conference of The ACSE and 2nd ACSTM, in Dubai, UAE. His strong research profile let him be selected to present his outstanding research work in 2nd Asian Conference on Science, Technology & Medicine–(A series of conferences organized byThe ACSE.) There he got an ample opportunity to network with Editor's, Publishers, Researchers, and Librarians over the platform of The ACSE, and took part in interesting panel discussions too, which initiated a deep interest of Dr. Ravindra to be a part of The Asian Council of Science Editors.
Considering the research profile, active professional circle, and deep insights of Dr. Ravindra in terms of scientific knowledge and publications, he was selected as a new Ambassador for India by the Membership Committee.
Congratulations Dr. Ravindra for being a part of ACSE Member's Family and a good luck from the council for your new position at The ACSE.
Brief profile of Dr. Ravindra
Dr. Ravindra P. Veerana has ten years of post-PhD research experience in the area of the cell and molecular biology. He obtainedhis Ph.D. in "Animal Biotechnology" from the Indian Veterinary Research Institute (IVRI), Izatnagar, India and subsequent postdoctoral research training in the National Institutes of Health (NIH), USA, and in the University of Chicago, USA. He is currently working as an Asst. Prof. Academy of Scientific and Innovative Research (AcSIR) and DBT Ramalingaswami Fellow at CSIR-Central Food Technological Research Institute (CFTRI) Mysuru, India. Dr. Ravindra has published his research findings in more than 30 peer-reviewed publications including in Nature, JBC, PLoS Pathogens, J. Virology, etc., and presented his research at many national and international conferences.
At the CSIR-CFTRI, his research focuses on nutrigenomics, and also on the investigation of the role of epigenetic factors in the development of insulin resistance and diabetes particularly in lean and non-obese individuals. Furthermore, his research also focuses on developing formulations, processes, and products for diabetes, endurance exercises and stress. In addition to the research focus, he is on the editorial board of a number of peer-reviewed journals. He is a recipient of many prestigious awards and honors including DBT Ramalingaswami Fellowship, the young scientist, the scientist award, etc. Apart from academic credentials, he is a marathon runner and ran more than fifty half marathons and five full marathons.