Congratulations to our Eminent Ambassador for securing award for "Outstanding Scientist in Biotechnology" from V.I.F.
On behalf of  ACSE Membership Committee, we would like to congratulate Dr. Ravindra PV, one of the very talented and bright ACSE Ambassadors in India, for achieving "Outstanding Scientist in Biotechnology"Award from Venus International Foundation.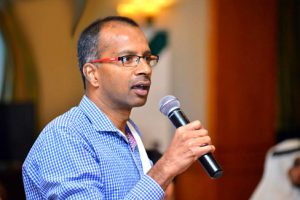 Dr. Ravindra PV, DBT Ramalingaswami Fellow/ Asst. Prof. Academy of Scientific and Innovative Research (AcSIR) at the CSIR-CFTRI, Mysuru has been conferred upon the award of "Outstanding Scientist in Biotechnology" for research contributions in the field of Biotechnology by the "Board of Management of the Venus International Foundation", Chennai. The award was presented in a function held on Aug. 11, 2018 at Radha Regent, Chennai. Dr. Ravindra has ten years of post-PhD research experience in the area of Biotechnology. He obtained his Ph.D. from the Indian Veterinary Research Institute (IVRI), Izatnagar, India and postdoctoral research training in the National Institutes of Health (NIH), USA, and in the University of Chicago, USA. He has published his research findings in more than 30 peer-reviewed publications including in Nature Medicine, Scientific Reports, JBC, PLoS Pathogens, J. Virology, etc., and presented his research at many national and international conferences.
At the CSIR-CFTRI, his research focuses on nutrigenomics, and also on the investigation of the role of epigenetic factors in the development of insulin resistance and diabetes particularly in the context of lean and non-obese individuals. Furthermore, his research also focuses on developing formulations, processes, and products for diabetes, endurance exercises and stress. Currently he has two extramural grants one from the DBT and another from the SERB, Govt. of India. In addition to the research focus, he is on the editorial board of a number of peer-reviewed journals. He is a recipient of many other prestigious awards and honors including DBT Ramalingaswami Fellowship, the young scientist, the scientist award, etc. Apart from academic credentials, he is a marathon runner and ran more than fifty half marathons and five full marathons.
We all appreciate your efforts of exploring science for the sake of humanity and wish you a very Good Luck for the future endeavors!