Ambassadors of the ACSE are always been spotted as a powerful and versatile source of visibility, council's credibility as well as trustworthy promotions. We are very delighted to share another success story of Member's and Ambassadors family of The ACSE.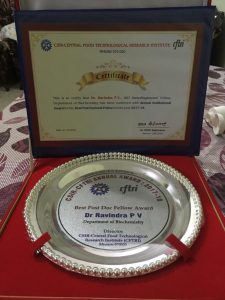 On Monday 29 October, During the foundation day celebration of Council of Scientific and Industrial Research and CSIR-Central Food Technological Research Institute, Dr. Ravindra PV, one of the Ambassador of The ACSE was been awarded with "Best Postdoc Fellow" award for the year 2017-2018. This award was instituted first time this year in CFTRI, Mysore, India to recognize the contributions of fellows who had substantial postdoctoral experience abroad and able to contribute independently for the growth of the institute through research, funding and academic activities.
For the past one year, aligning with the mandate of the institute, Dr. Ravindra has developed an endurance product that had shown to substantially improve the endurance potential in athletes. Continuing his basic research in the area of diabetes, his research group; for the first time showed that lung could also be a target organ of diabetes-induced complications. These findings were recently published in Nature Scientific Reports.
Dr. Ravindra PV, DBT Ramalingaswami Fellow/ Asst. Prof. Academy of Scientific and Innovative Research (AcSIR) at the CSIR-CFTRI, Mysuru has been conferred upon the award of "Outstanding Scientist in Biotechnology" for research contributions in the field of Biotechnology by the "Board of Management of the Venus International Foundation", Chennai. The award was presented in a function held on Aug. 11, 2018 at Radha Regent, Chennai. Dr. Ravindra has ten years of post-PhD research experience in the area of Biotechnology. He obtained his Ph.D. from the Indian Veterinary Research Institute (IVRI), Izatnagar, India and postdoctoral research training in the National Institutes of Health (NIH), USA, and in the University of Chicago, USA. He has published his research findings in more than 30 peer-reviewed publications including in Nature Medicine, Scientific Reports, JBC, PLoS Pathogens, J. Virology, etc., and presented his research at many national and international conferences.
Wishing you a very good luck for all the new ventures!