We are pleased to announce that Asian Council of Science Editors has extended its philanthropic support to the Institute of Clinical Psychology, University of Karachi bind within a Memorandum of Understanding (MOU).
As a supporting organization, both parties agree to follow a comprehensive plan of mutual cooperation, the terms of which are laid out in a Memorandum of Understanding (MOU) that may be followed by Memorandum of Agreement (MOA) considering the comfort level and efficiency of  both organizations.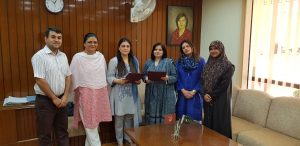 (L-R : Dr. Salman Shahzad, Dr. Sarwat J. Khanam, Dr. Sobia Aftab, Dr. Uzma Ali, Dr. Kausar Ansari and Dr. Hina Imran)
Following the MOU, the ACSE has extended its benevolent Support to Institute of Clinical Psychology in Effective implementation of high ethical standards and editorial workflows in publishing research, Capacity Building as well as promoting their research activities and events.
Upon signing the MOU, both of the Organizations agree to participate in events of mutual interest to share common development and endorse each other publicly.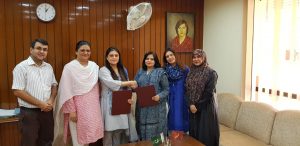 This memorandum is commenced on April 12, 2019 and shall continue for period of first 5 years of mutual cooperation and understanding.
About Asian Council of Science Editors
The ACSE is the first and the foremost organization in Asia, that aims to provide a unified and active platform for Asian editors and scholars to understand about their editorial problems, explore solutions and devotedly take up the future challenges to enhance the quality of Asian Scientific and Scholarly publications.
ACSE works with capable professionals and experts in scholarly publishing industry by offering them networking and workshop opportunities as well as meaningful discussion forums. ACSE  strives to enhance understanding, skills and knowledge of her members which indirectly enhances the quality and reliability of scientific literature. ACSE members represent all facets of scholarly publishing community comprising early career researchers, editors, publishers, printers, e-products developers, technical service providers and librarians.
About Institute of Clinical Psychology, University of Karachi
Institute of Clinical Psychology is a reputable institute and has a distinguished status in the field of clinical psychology and research since it has been established. The Institute's high quality training, research and congenial environment ensures its position as the institute of choice for Pakistan's high-caliber postmasters students. The students of ICP are highly competitive and are working effectively in wide-ranging fields of employment. It is this reason that students of ICP are in high demand in various organizations. This has been made possible due to Educational Excellence, Intensive Clinical Supervision, Multidisciplinary Approach, Research and Development of Psychological Instruments as well as diverse career opportunities.